Tuesday nights have somewhat become my movie night of choice. Firstly, it's cheapo tickets day at Hoyts cinema (well, I suppose it's really not a massive saving but it still makes me feel good: which is what really matters anyways). Secondly, I just think that it is a mid-week indulgence away from my typical drunk/hungover weekend. Plus there usually isn't anything going on on tuesdays so watching a movie is a chillax-something-to-do for me.
The movie of the day was Kung Fu Panda 2 in 3D. To be honest this is my second time watching it. I like it but it is definitely not one of those ever-so-bloody-awesome-i-have-to-see-it-again-asap movies. The only reason that I want to see it again was because I liked the movie the first time round but I was too hungover to concentrate most of the time (on a saturday -.-). Plus I have a thing for cartoon/animation~~~
After the movie, my friend and I went to dinner at Movida Aqui. Movida (the original one) seems to be very popular... fully booked on a Tuesday, plus they now have 3 or 4 restaurants (The Masterchef effect??).
REVIEW: Movida Aqui is nice and cozy, located in a quieter part of the city. I like the atmosphere of the restaurant a lot because it's not one of those pretentious restaurants with itsy bitsy portions of food. I also don't feel like I have to dress prim and proper, sit upright and not make any noise (Don't get me wrong... I do really enjoy fine dining because I love good food, but most of the time I feel so tense and out of place that I prefer more casual restaurants like this one). Service was okay, I think there was only one or two waiters overlooking the seating area, so can't blame them I suppose. The food was a bit slow, but the waiter did apologize for the delay. Food was pretty good and a pleasant dining experience overall.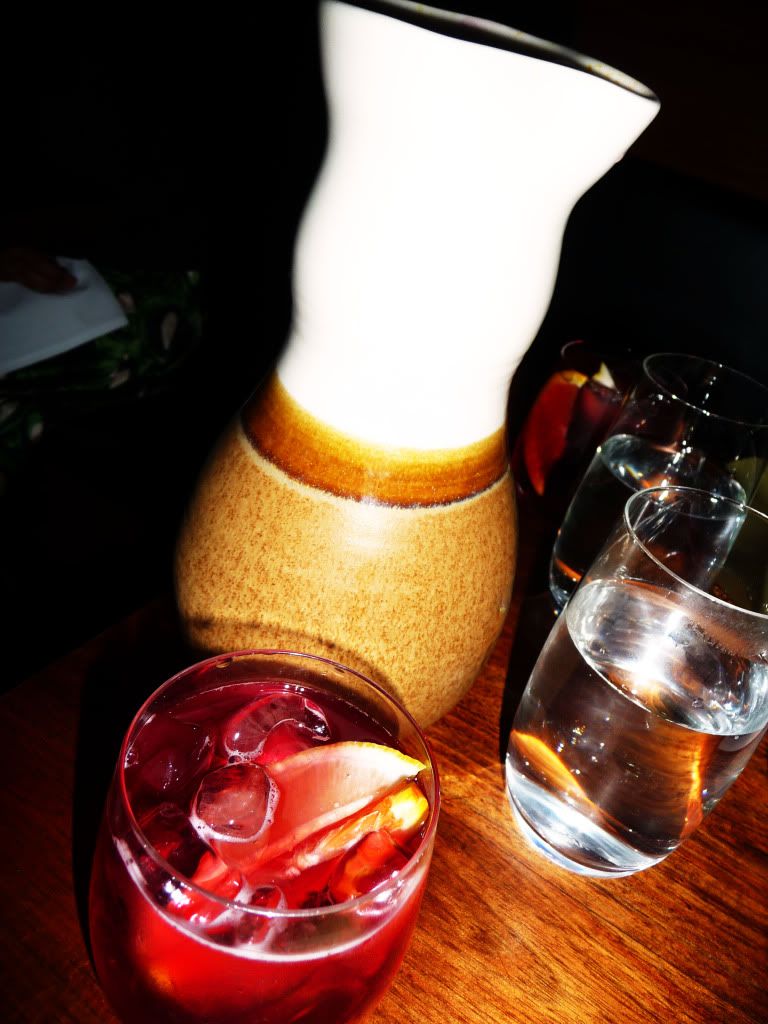 We ordered a jug of Sangria~~ Maybe it's not the best idea considering it's a tuesday and my friend has class at 8am the next day.
But this tastes amazing. I normally am not too fond of the slightly strong kick (you know, that punch at the end of the sip) of red wine. THIS.. tastes like juice. The girly side of me loves silent killer drinks like this one: just enough to make me get a little giggly but nothing that is going to burn a whole in my stomach and make me pull a face after drinking it.
They do have an extensive wine list but I am absolutely clueless when it comes to wine so no point trying. I highly recommend the sangria though. Loves it~~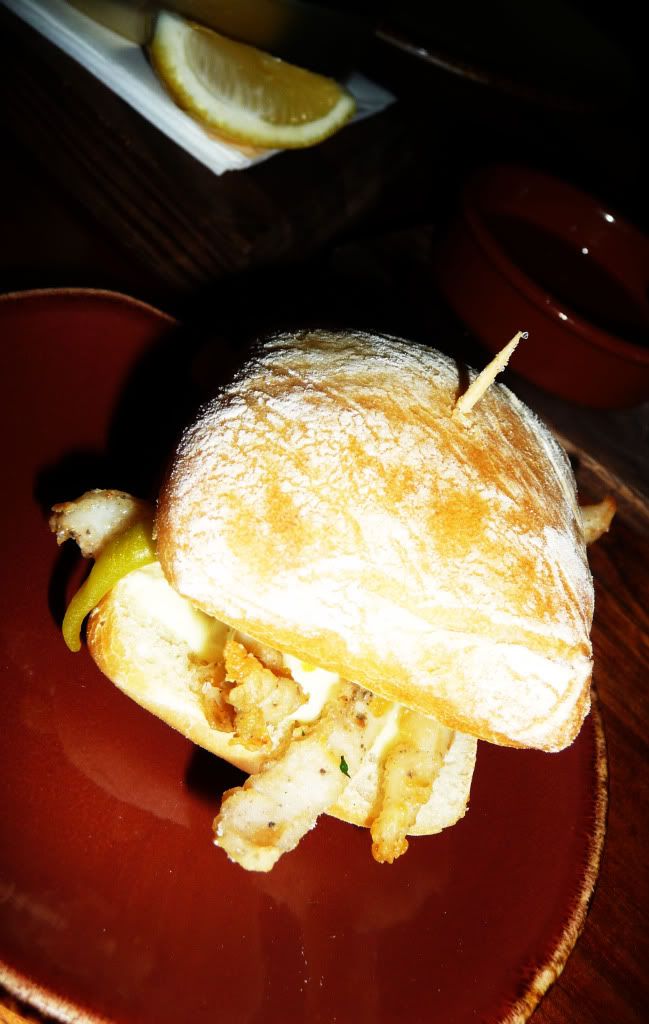 Bocadillo de calamares

:
Calamari sandwich with Basque guindilla and mayonnaise.
This is a good sandwich. The bread is not too hard and the flavours were very nice. The fried calamari is succulent and rich but nicely balanced by the sourness of the pickled-something (I don't know what it is >_<) with the creamy mayonnaise tying everything together.
It is not too small as well. Good and bad~~ You have more of the yummylicious sandwich but it will fill you up!!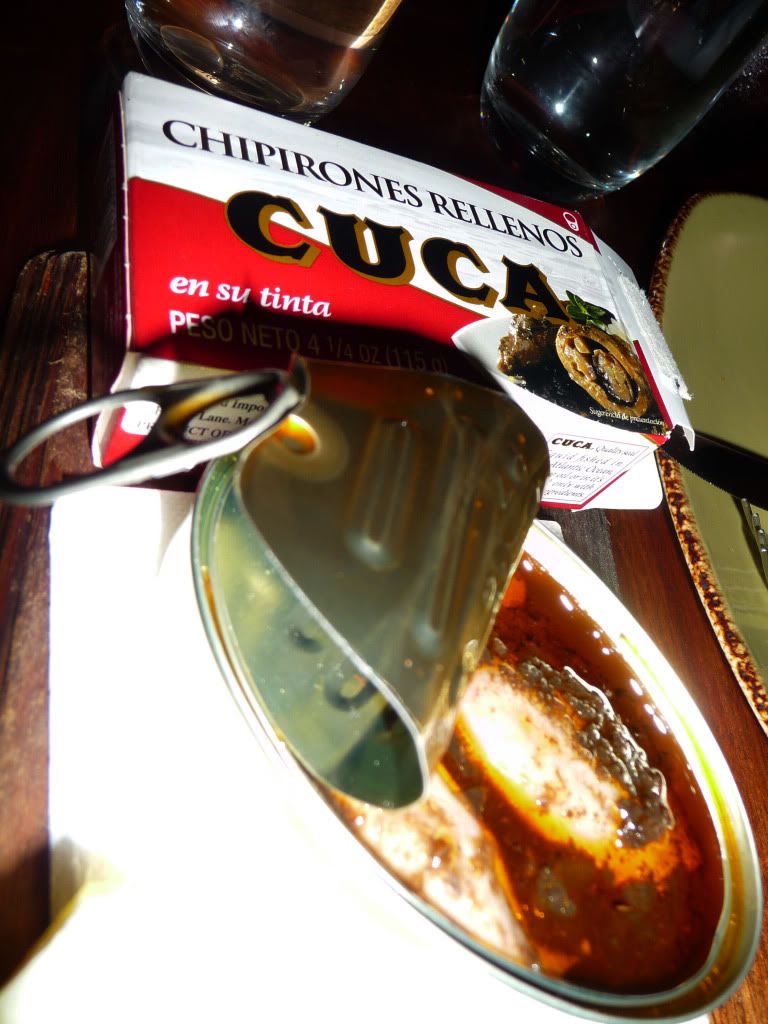 Stuffed baby squid in squid ink and spice sauce.
(I think this was on the specials menu so I can't get the exact name and description of it)
I think this was okay but my friend really liked it. The squid was really soft and there is a nice earthiness to it. But I think that it could have done with a bit more texture.. and it came straight out of a can.
Not in love with this one.
Bomba:
Catalan Potato bomb filled with chorizo
I am a big fan of croquette-type dishes so I had to order this when I saw it on the menu.
This was also okay. I expected the smokiness and saltiness of the chorizo to show through a bit more. This is just a little bland for my liking. The texture was nice, nice and crispy on the outside and smooth and creamy potatoes on the inside. I also think that the sauce could have done with a little more presence in the dish.
Creamy pork croquettes (specials).
Ahhh.. my croquette obsession.
This is not bad. The croquette itself is very nicely made with good contrast between the crispy shell and the creamy smooth filling. Might have been a teeny bit oversalted, and I think it would have been better with a bit of acid to cut through the richness.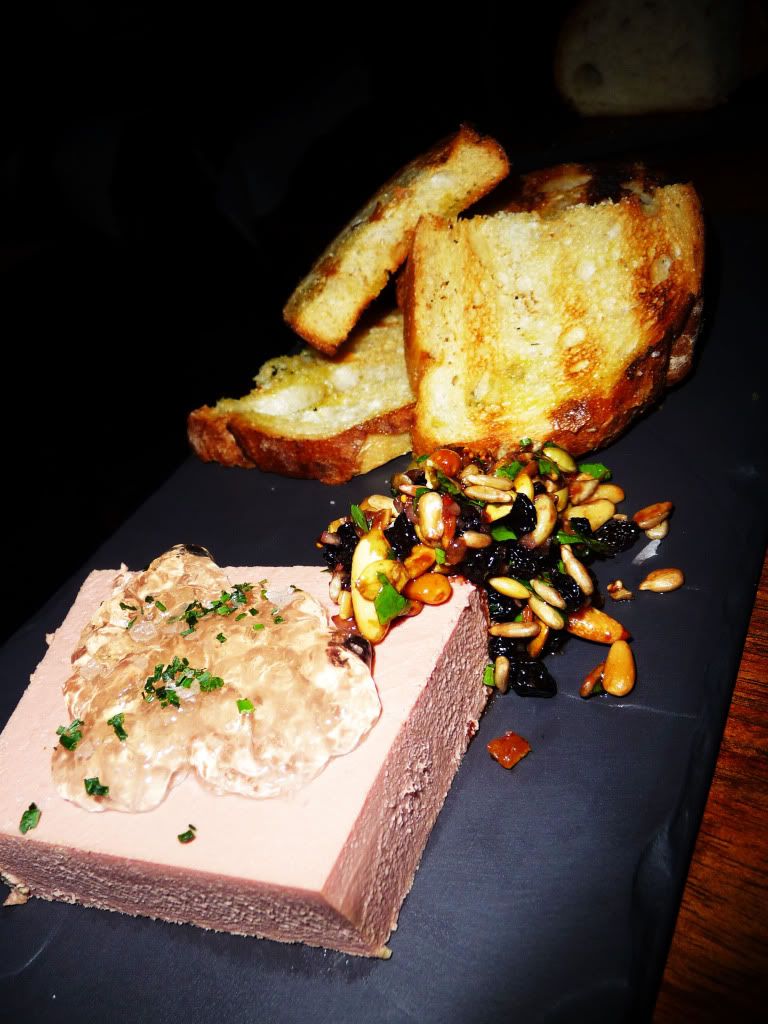 Foie Gras and duck liver pate with toasted bread, some gelee and mixed dried fruit, nuts and herbs (specials).
For those of you who don't know, foie gras is my all time favourite indulgence. And this pate is not to disappoint.
The pate itself is absolutely amazing, velvety smooth and buttery. The gelee has a hint piquancy of alcohol and has a nice sweetness that goes perfectly with the pate. When paired with the crispy toasted bread and fruit, nuts and herbs mixture that added more layers of flavours and texture: it is truly an orgasm in your mouth experience.
The portion was also very generous (my friend and I were too full at this point so we couldn't actually finish this. Which to this point still bring pain to my heart).
Pancetta con Morcilla:
Confit pork belly and morcilla with apple puree
Being one of my favourite meat, I am rather picky when it comes to pork dishes.
THIS is superb. The crackling is nice and crunchy but not so hard that it scratches the roof of your mouth. A sumptuous blood-pudding-like layer was sandwiched in between tender and juicy meat. With a sauce that is not too rich and overpowering and pork's best friend a.k.a. apple puree.
Love at first bite and yummy to the max!!
We were so uncomfortably full at this point so there is not way we could eat another bite of food. We did have a look at the dessert menu but there were really nothing that jumps out at me though..
I want to go back there again.. because I really want to try these dishes out.
1)
Codorniz con Kikos:
Grilled jumbo quail filled with duck liver parfait, served with with sweet corn puree and toasted corn
Seriously, quail and duck liver parfait. It sounds like music to my ears and just imagining it is making my mouth water.
2)
Paleta de Cordero:
24hr Slow-roasted lamb shoulder, served with fino, saffron and onion potatoes.
I love lamb (actually red meat in general, but I don't eat beef). When it is cooked for 24 hours doesn't it just makes it sound so much more alluring??
For those who are interested. The contact details for the restaurant:
Level 1, 500 Bourke St, Melbourne. (Access via Lt Bourke St)
Bookings can be made by calling
(03) 9663 3038.
This is it from me this time. Until next time.