I love food. However, i am not very blessed with the knife skills nor the determination to prepare gourmet meals. So most of the time when i am having meals by myself, i resort to takeaways and frozen food; which i must say, is nothing compared to the comfort of a proper home cooked meal.
A life-changing moment came, when my brother's girlfriend (who is referred to as Feli) invited me to dinner at her place. and she has been feeding me quite frequently ever since.....
This is a little documentation of our food journey together.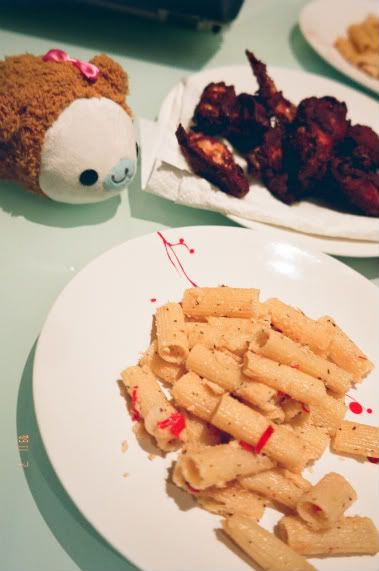 Crab meat pasta with deep fried chicken wings. Very yummy
and homey chicken wings accompanied by a fresh and light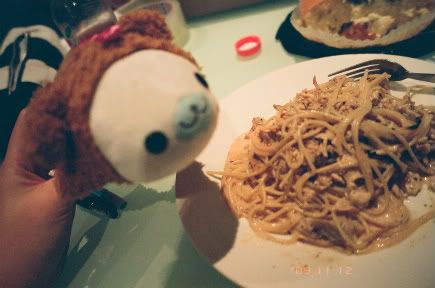 This is another one of her many amazing pasta creations...
Cajun chicken pasta!! She considers this to be a "quick and
easy" recipe, but it taste uber amazing nonetheless.
Meal is completed with a woolworth's blueberry teacake.
On a hot summer day, we had cold soba noodles with
tempura prawns. Feli is a dedicated cook and she
made the dipping sauce herself... which of course..
tasted a whole lot better than the store bought ones.
The tempura prawns were also perfectly seasoned and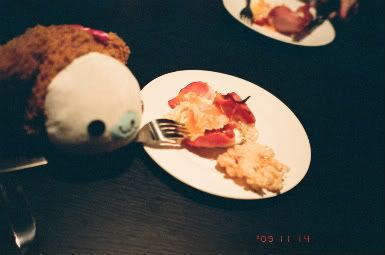 On the same day, after several hours of
grueling studying to prepare for the horrendous uni
exams, we had to eat something to refuel ourselves.
And we had breakfast food for supper, since we were
still awake at the wee hours in the morning. On the
menu, bacon wrapped eggs with tempura crunch.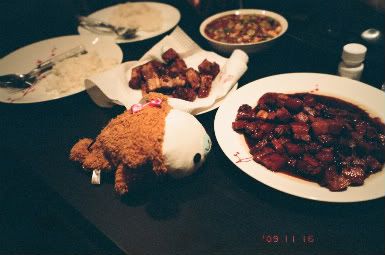 Chinese food night. We had 回锅肉, which could be
directly translated to meat returning to the pot.
Sounds kinda weird but it is amazing. Andddddd..
not to forget the dish at the back of the
photo: steamed egg whites with asparagus and
seafood sauce. Absolutely delicious.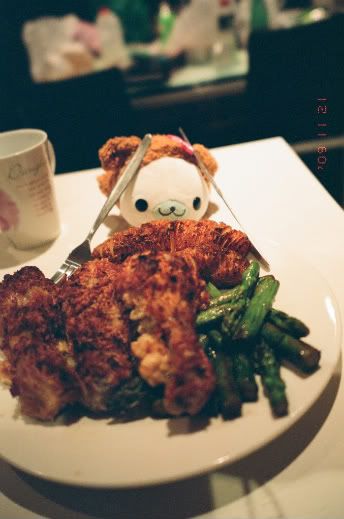 Comfort food night. What is a better comfort food
than fried chicken and potatoes??? the potatoes
were prepared in a special way (i am sure there
is a culinary term for it), and went amazingly
well with the chicken. We had a little sauteed
asparagus to increase some vegies intake (minute
"health" conscious moments~~~)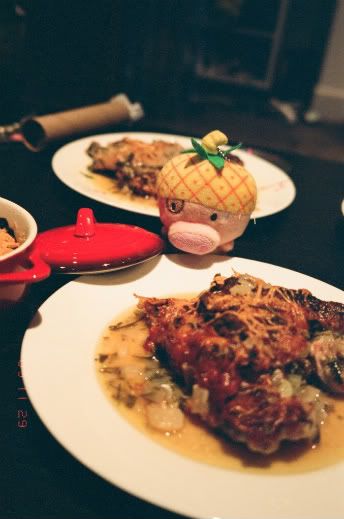 This is one of my favourite meals of all times.
Lamb chops with parmesan crust garnished with
vegetable crumble. Just thinking about this is
making me hungry..... the flavours of this dish
is mind-blowing.. And it was better than the lamb
that i have had at some of the restaurants i have
All great food journey has to end with desserts..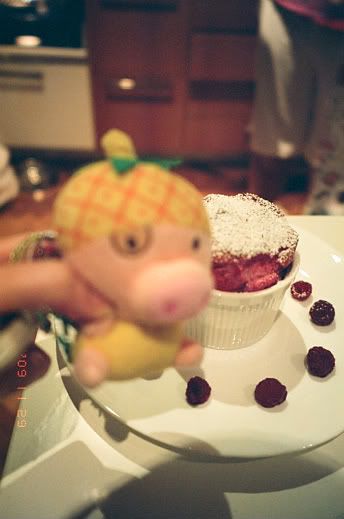 Raspberry souffle with berry coulis. This is made
by the brother who for some reason had been
rather interested in baking lately. It tasted
amazing but the souffle sunked when we were busy
snapping photos of it.. But the deflated version
Hope you have enjoyed the little food journey
with us. Stay tuned for many more to come in
the future
.